Having recovered from the ice water challenge, I spent time on the farm this week, with our Animal Care Tutors, looking at the fantastic new setting for our students to learn and develop their skills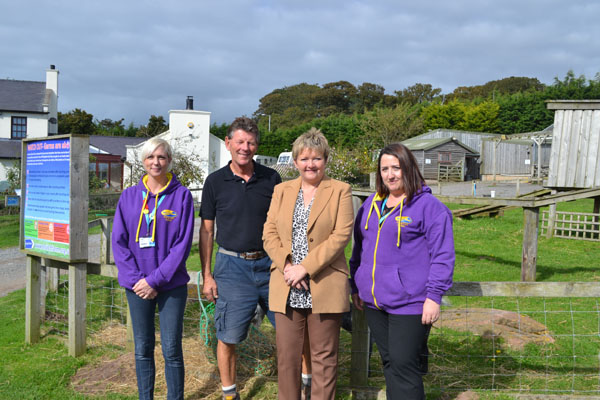 Tutor Jane Hayman, Church Farm Owner Steve Ledsham, Principal Sue Higginson and Tutor Bev Chandler.
On Wednesday, I met the Construction Team to present John Invernizzi with his 25 year service award and we talked about the new build project, where work has now started. On Thursday, Prep for Life students had their celebration of achievements event and I watched the Futuristic movie they had made under the direction of Dave King. So much creativity!
I also spent time at 12 Quays, Conway Park and the Oval, meeting many of our new students who are looking forward to college life.Even though enrolment 2014 is still underway, we have already started receiving applications for Sept 2015!
The week ended with another celebration of achievement, at the Wirral University Teaching Hospital, where we awarded a huge range of certificates to hospital staff involved in both clinical and business support functions. Traineeships, Apprenticeships, continuous professional development…. Every type and level of learning celebrated through our partnership…. A great way to end the week.