Our School Liaison team aims to give all students the opportunity to discover and explore career pathways, take part in interactive and enjoyable activities, and give students and their influencers up-to-date careers education, information, advice and guidance (CEIAG).
---
Gatsby Benchmarks
The services we offer help schools to meet the Gatsby Benchmarks and incorporates best practice as detailed in the Gatsby Toolkit for Schools.
It can also contribute to fulfilling your school's obligations under the 'Baker Clause' which stipulates that schools must allow colleges and training providers access to every student in Years 8-13 to inform them about approved technical education qualifications and apprenticeships. Our varied offer includes presentations, workshops, tours and application sessions.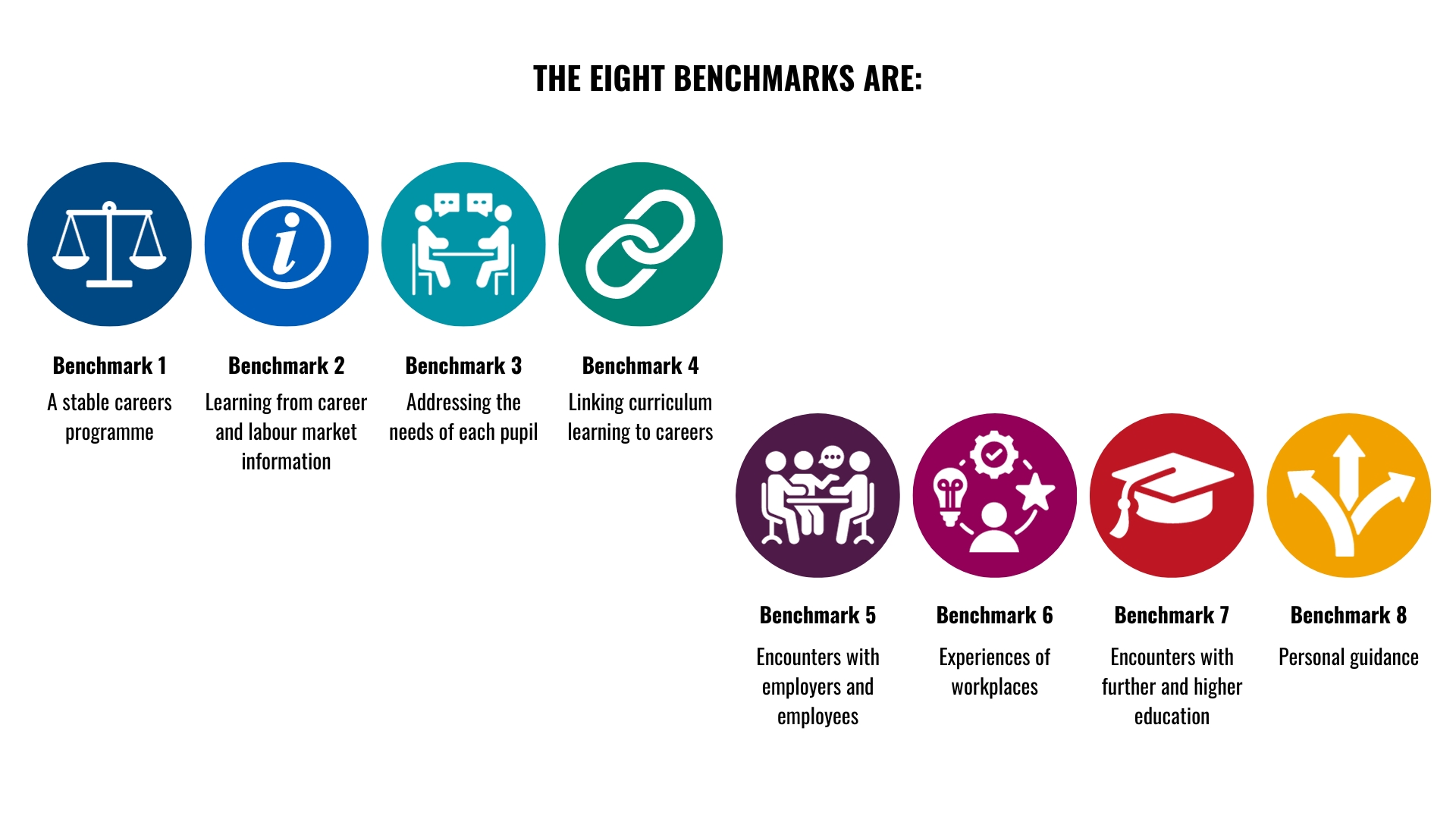 ---
Assembly Presentations
Our assembly presentations are a great way to deliver key information to a large group of students within a relatively short space of time. We can adapt the length of presentations to suit your schedule and cover a range of topics to meet the needs of students.
Introduction To College Life
GATSBY BENCHMARK: 1,2 & 7
Session Length: 10 mins - 1 hour
This presentation is a great introduction to Wirral Met and offers pupils a taste of what life at college is like. It features an overview of our study pathways, facilities,support and the additional opportunities available to students. It will cover topics such as; how you can study, courses available from September, trips and enrichment activities and Open Evening information. The presentation can be tailored to meet the needs and interests of the students we deliver it to.
Discover T-Levels
GATSBY BENCHMARK: 1,2,3 & 7
Session Length: 10 mins - 30 mins
As T-Levels are still a relatively new qualification, students and their influencers may have a lack of awarenesss or misconceptions about this option and whether it is right for them. Our presentation introduces students to T-Levels,covers the benefits of studying this qualification compared to other post-16 pathways and provides an overview of the options available to study at Wirral Met.
Staying Local For University
GATSBY BENCHMARK: 2,3 & 7
Session Length: 10 mins - 1 hour
This presentation offers students information about university life at Wirral Met, the courses available, the benefits of studying with us, and how to apply. It considers the advantages of studying locally as opposed to moving away for university and positions higher educationas a viable option for those who may not have considered it before.
Start Your Career With An Apprenticeship
GATSBY BENCHMARK: 1,2 3 & 7
Session Length: 10 mins - 30 mins
Allowing students to earn whilst they learn, an apprenticeship provides valuable workplace and industry experience whilst they work towards a qualification.From level 2 through to degree apprenticeships, Wirral Met offers a wide range ofapprenticeship programmes across the Liverpool City Region. Our apprenticeship presentation provides students with essential knowledge about apprenticeships,including where to find them and how to apply for them. We also share some apprenticeship success stories to show students examples of where this pathway can lead to.
---
One-To-One Sessions
Our one-to-one sessions provide the opportunity for students to access tailored support and advice from a member of our expert team. They allow students to ask questions that may have not been covered by presentations and receive information that is personalised to their interests and career aspirations.
Sessions can be delivered on a drop-in basis and students can also opt to attend a session as part of a small group.
How To Apply To Wirral Met
GATSBY BENCHMARK: 3,4,7,& 8
Session Length: 30 mins - 1 hour
In this individualised session we will cover the college application process, discuss career aspirations, study options and pathways and support applicants through making an application. This is available to individuals and groups.
Personal Guidance
GATSBY BENCHMARK: 1,2,3,7 & 8
Session Length: 30 mins - 1 hour
These sessions are fairly open and can be tailored to the needs of the individual pupil. You may have identified that certain students may be nervous about joining college or have become disengaged from lessons. They may be confused about the options available to them and where these can lead. These informal and relaxed sessions can help re-engage and inspire students as well as providing them with an action plan for their next steps. Pupils can also attend personal guidance drop-in sessions with parents/carers at Conway Park Campus - Monday 10am-1pm,Wednesday 1pm-6pm & Friday 10am-1pm (term time only).
---
Tours and Tasters
The best way for students to find out if studying at Wirral Met is the right choice for them is to come and visit our specialist facilities, try out a range of our career-focused taster sessions and speak to our staff and students. There are a number of opportunities for your students to do this:
College Discovery Days
GATSBY BENCHMARK: 1,2,3,4,6 & 7
Session Length: All Day
Our college discovery days allow students to spend a full day on campus, participating in a timetable of varied taster sessions and interactive lessons delivered by our course tutors. Students will attend up to six taster sessions within the day, introducing them to various subject areas they might not have explored before. The day also gives them an opportunity to view our state-of-the-art facilities and speak to current Wirral Met students about their experiences at the College, giving them a rounded overview of college life.
Campus Tours
GATSBY BENCHMARK: 1,2,3,4 & 7
Session Length: 30 mins - 2 hours
Tours of the college campuses can be customised to meet your pupils' specific needs and interests. Tours give them the chance to visit our specialist facilities, meet tutors and current students,and have the opportunity to observe teaching and learning as it happens. Tours can be arranged throughout the year and are available for groups and individuals.
Curriculum-Linked Taster Sessions
GATSBY BENCHMARK: 1,2,3,4,6 & 7
Session Length: 1 hour - 2 hours
Our wide range of vocational courses are delivered by industry expert tutors, meaning we are able to deliver a variety of career taster sessions at our college campuses. The sessions include interactive, hands-on experience of job-related courses using our specialist facilities. The aim of our tasters is to inspire young people to explore their interests and learn more about careers they may have in mind. In some areas we can also deliver these sessions at your school.
Increasing Diversity Within Industry
GATSBY BENCHMARK: 1 & 7
Session Length: 1 hour - 2 hours
As part of our commitment to increase diversity across curriculum areas, we regularly host exciting visits to our Engineering, Construction and Automotive departments. The sessions are aimed at Year 10 girls and BAME students, with the intention of challenging student's perception of these industries and encouraging applications from underrepresented groups.The format of the day can be tailored to meet the needs of the students attending, but generally includes a hands-on taster session of an Engineering, Construction or Automotive course, a tour of our workshop areas and a Q&A with some of our female staff and students to hear about their experiences within the industry they have chosen.
---
School Careers Programme Support
Our flexible team are happy to support your school's career programme in anyway you need.
Supporting School Events
GATSBY BENCHMARK: 1,2,3 & 7
Session Length: Varies depending on school's needs
The post-16 education landscape is constantly evolving and it's important to keep parents and carers informed on all available options. Whether you are hosting a career's fair, parent's evening or options evening, we can support by providing careers advice and information to both students and their guardians about pathways at Wirral Met.
Mock Interviews
GATSBY BENCHMARK: 4 & 5
Session Length: Varies depending on school's needs
Mock interviews give pupils the Mock interviews give pupils the opportunity to practice answering questions, rehearse their interview conduct, and receive useful feedback, increasing their employability in the future. We can come into your school and assist you with mock interviews for any number of students at a time that suits you.
School Drop In Sessions
GATSBY BENHCMARK: 1 & 7
Session Length: 30 mins - 1 hour
Drop-in sessions offer pupils a relaxed, informal environment to chat and learn more about options available to them post-16. Often hosted during break orlunchtime in your school, the sessions provide the opportunity for pupils to meet our liaison team and explore course and career opportunities. The pupils will beable to take home resources to inspire them and support their decision-making.
---
Workshops
Our team can also deliver informative workshops to groups of students around the subject areas of Further Education and employability. If you have a topic in mind that you'd like us to cover let us know and we can tailor the session to the needs of the group.
CV and Application Workshops
GATSBY BENCHMARK: 4
Session Length: 1 hour
It's never too early for students to start getting ready for the world of work. Our expert careers advisors prepare students to secure work placements and paid employment and can help your students to get a head start. This interactive workshop covers the production of quality CVs and job applications that will impress employers and help students stand out in the job market.
Choosing The Industry For You
GATSBY BENCHMARK: 2 & 4
Session Length: 1 hour
When students are unsure about their career aspirations,it can often help to offer them guidance based on statistics.This interactive session uses labour market information to help them make an informed decision based on information about job market demand and associated salaries. We can then provide guidance on the next steps they need to take to start their journey into a specific career path.
---
If you would like to see anything else from us or if we can support you with your careers provision in any other way then please let us know, we would be delighted to help and support you where we can.
Subcategories