Wirral Met College has begun to build a fantastic alumni network of former students who are becoming a great part of college life. The vision is that our College should be supported by a thriving, engaged alumni community.
Become a mentor for our current students and share your experiences
Be a role model for other students following in your footsteps
Become a guest speaker at student events
Provide work experience and apprenticeship/traineeship opportunities
Reconnect with friends
To join our alumni, REGISTER HERE.
Your Alumni President:
Paul Askew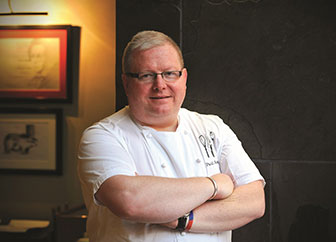 Paul Askew, Chef Patron of The Art School Restaurant, is one of the North West's most popular Chefs. He studied a BTEC Diploma in Hotel Management and Intuitional Operations at Wirral Met, specialising in the culinary aspects of the course. Since leaving Wirral Met Paul has worked in many hotels and restaurants, first starting on a higher apprenticeship program with De Vere Hotels, and then went on to working for various independent restaurants, including 2 years as a chef in New York, before returning the UK to enter his first Head Chef position in a country house in Cheshire.
Paul says "I think Wirral Met College helped me enormously when I decided what I wanted to do… I think the course that I went on gave me a fantastic foundation and background to what this mad industry is. (The course) gave me the technical side, the underpinning knowledge of what you need to learn to be a successful chef or a successful maître d' of the future. If you've got a passion in your heart and you've got a real desire to do this properly then the best thing can do is get on a foundation course."
Paul opened the Art School Restaurant in Liverpool in 2014. The critically acclaimed Restaurant is listed in the 2018 Harden's Top 100 Best UK Restaurants, having been awarded "Taste of England" at the 2017 Visit England Awards and appeared in 2017 Sunday Times Top 100 Restaurants, the first restaurant in Liverpool to make the list. Paul is also the Chair in the North of England for the Royal Academy of Culinary Arts.
Here are some of our alumni sharing their achievements since leaving Wirral Met College...
For information on how you can share your achievements as part of the alumni community, email: This email address is being protected from spambots. You need JavaScript enabled to view it.
Advice to current students:
"Always give 100% whether it's in your work, activities or experiences because it all goes by so quickly. There is no making up the time once it's gone, and one day you will find yourself, like me, reminiscing on things that you have done with your college group, and realise it was some of the best things you have ever done!"
-Beth Keenan, left Wirral Met 2015.
"Never give up, as hard as things become and as new challenges arise keep seeing this as more experience and knowledge that'll give you a brilliant end result. Always have faith and believe in yourself 100% of the time!"
-Shannon Miles, left Wirral Met College 2016.
"I think my advice to current students would be to commit to your course completely - it's such a short amount of time that you're there (even though during revision/coursework/exam times it can feel like hours are actually days!) and the day you finish will feel like the day after you just started! Absorb everything you can from the staff, ask questions, go to the library, get work done on time and simply embrace the experience. Whatever you go on to do next - employment, uni, apprenticeship or whatever - nothing will be like your college days so really do commit yourself and enjoy yourself!"
- Zoe Chapman, left Wirral Met College 2012.