Curtis Painting Group, a family run company established in 1980, has grown over the last 40 years into one of the leading painting and decorating contractors operating across the North West.
Working in a range of heritage, domestic, commercial and industrial properties providing their specialist services, the partnership with Wirral Met College to deliver apprenticeships for young people in the local area is a perfect fit.
Supreme winner of Johnstone's Painter of the Year 2019, Curtis Painting Group, is also working with the College to upskill and motivate their own employees through a wide range of Continuing Professional Development courses which is helping to create a highly trained workforce as the business continues to grow.
David McCormick, Contracts Manager at Curtis Painting Group said:
"Our apprentices have gained a wealth of knowledge at Wirral Met College, training our work force of the future. The College has also provided training for our existing employees, ensuring they gain new methods of working and develop their skills. We look forward to continuing our partnership work with the College for many years to come."
Are you interested in a tailored apprenticeship programme in your workplace?
Create a highly skilled workforce, and/or develop your existing employees to help grow your business by speaking to our friendly, experienced Employer Services team today – email This email address is being protected from spambots. You need JavaScript enabled to view it. or call 0151 551 7610.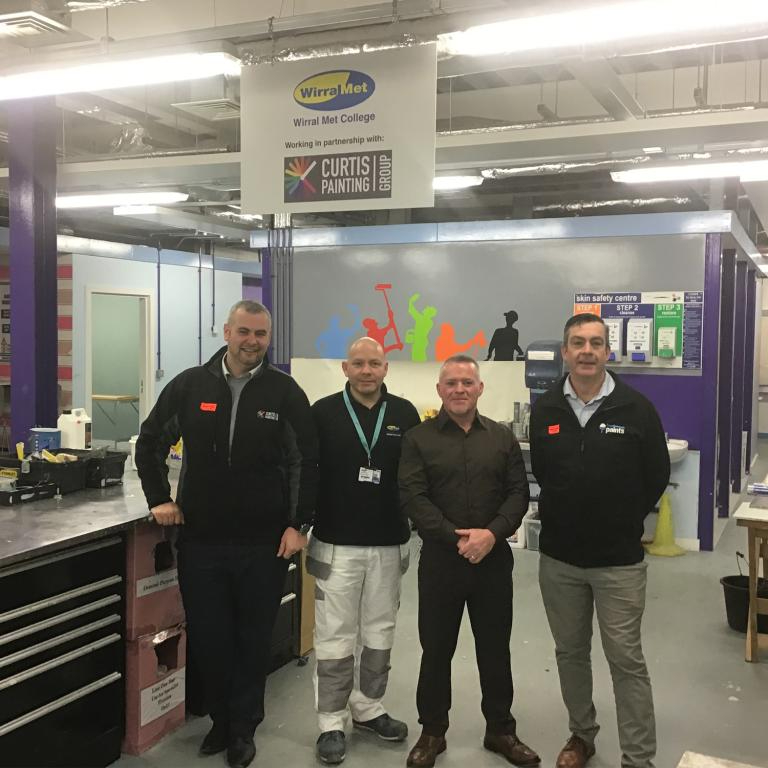 David McCormick (Curtis Painting Group), John Invernizzi (Wirral Met), Paul Crawford (Wirral Met) and Steve Kelsall (Bromborough Paints)