Wirral Met College welcomed Robert Parker, CEO of the Royal Society of Chemistry, to officially launch its STEM Centre on Wednesday 2nd November 2016, supported by students, apprentices, staff and local employers.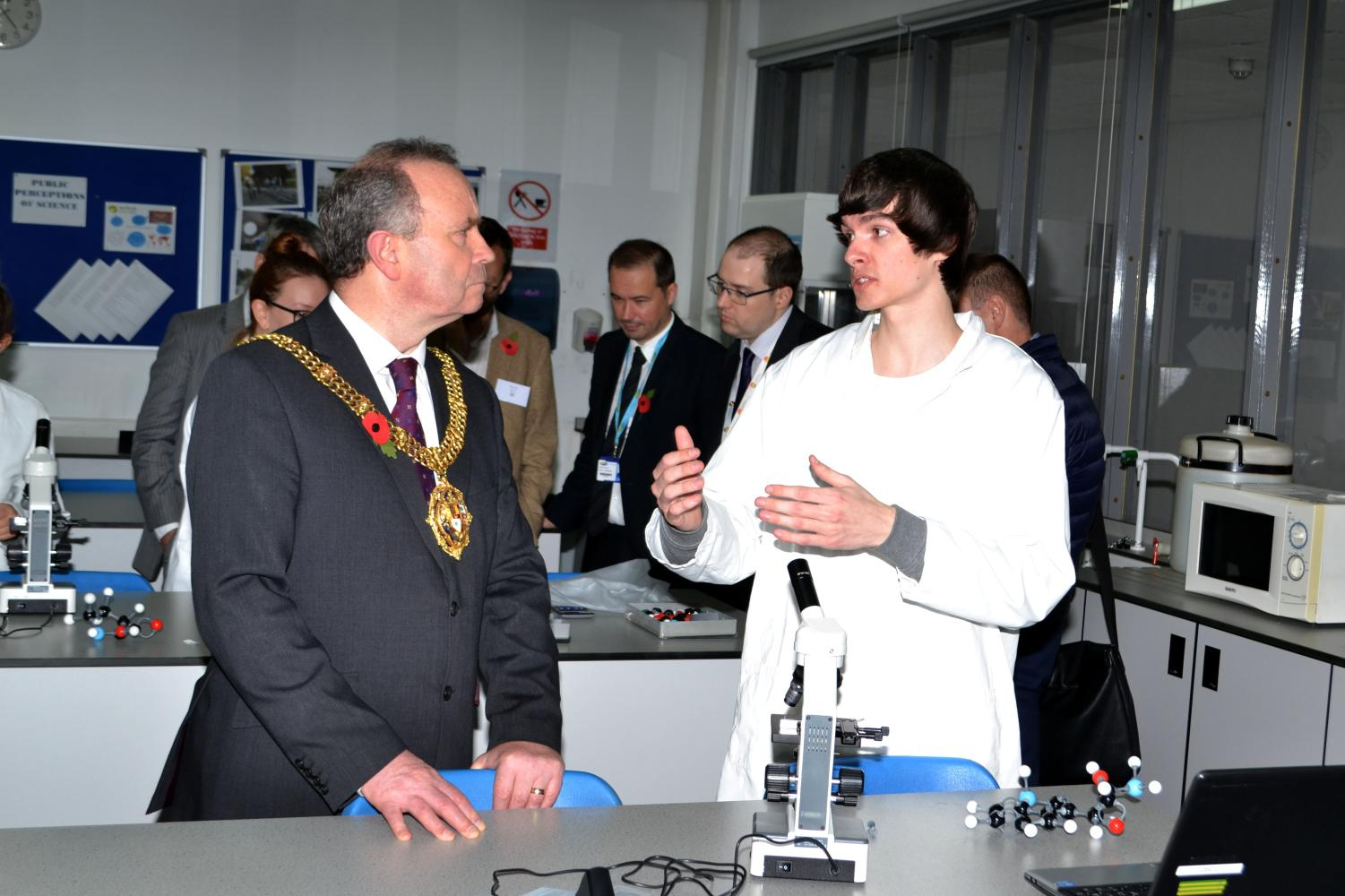 Wirral Mayor Councillor Pat Hackett speaks with STEM student
The College's specialist new Science, Technology, Engineering and Maths (STEM) Centre at the Twelve Quays Campus supports students to gain the qualifications, practical skills and experience by working on specialist equipment that they would usually only see in the workplace or a university. The STEM Centre will help students gain the skills and qualifications from level 1 through to foundation degree and degree programmes, to take advantage of the growth in jobs across Wirral and the Liverpool City Region.
Michael Norton, Acting Principal of Wirral Met said, "We are immensely proud of our STEM and Logistics and Warehousing Centres at our Twelve Quays Campus, which include a wide range of high specification, industry standard machinery and equipment usually not seen in a further education college. We are very grateful to the Royal Society of Chemistry for their ongoing support and we are delighted to sign the partnership agreement so that we can continue the excellent work we have started in working together to develop outstanding opportunities for all students studying Science at Wirral Met. I would also like to extend my personal thanks to the many local organisations who have supported the College through donations of equipment and machinery, as well as those who we work in partnership with to deliver a wide range of apprenticeship programmes across Science, Technology and Engineering."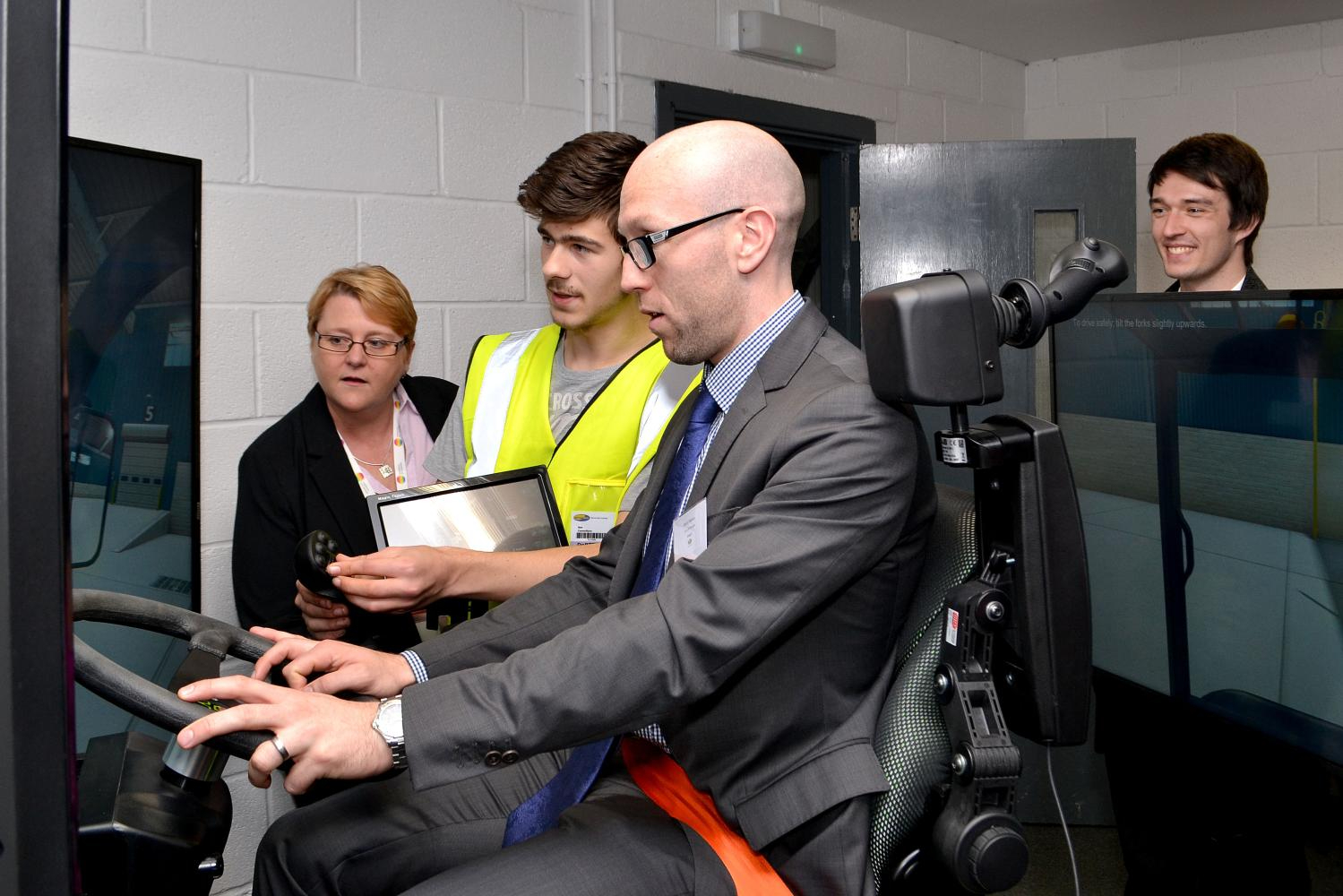 FLT simulator room, logistics centre
Dr Robert Parker, CEO of the Royal Society of Chemistry, helped to open the new centre. "It is really exciting to have the opportunity to see the inspirational work going on at Wirral Metropolitan College and to witness the opening of the new STEM centre", he said. "The new facilities will provide students with an excellent learning experience, which is so important in developing the people who will make the scientific advances of tomorrow, from new medicines to renewable fuels. Their journey starts with great teaching and we are pleased to have signed a collaboration with the college that will see us work ever closer together in the future."
James Scott-Roberts, an intermediate engineering apprentice working at Whitemoss Horticulture Ltd based in Liverpool, explained how the new engineering facilities are helping him with his apprenticeship, "The modern equipment at the Wirral Met STEM Centre is great. It allows me to learn specialist up to date skills needed within the engineering industry. I am privileged to be given the opportunity to study at Twelve Quays."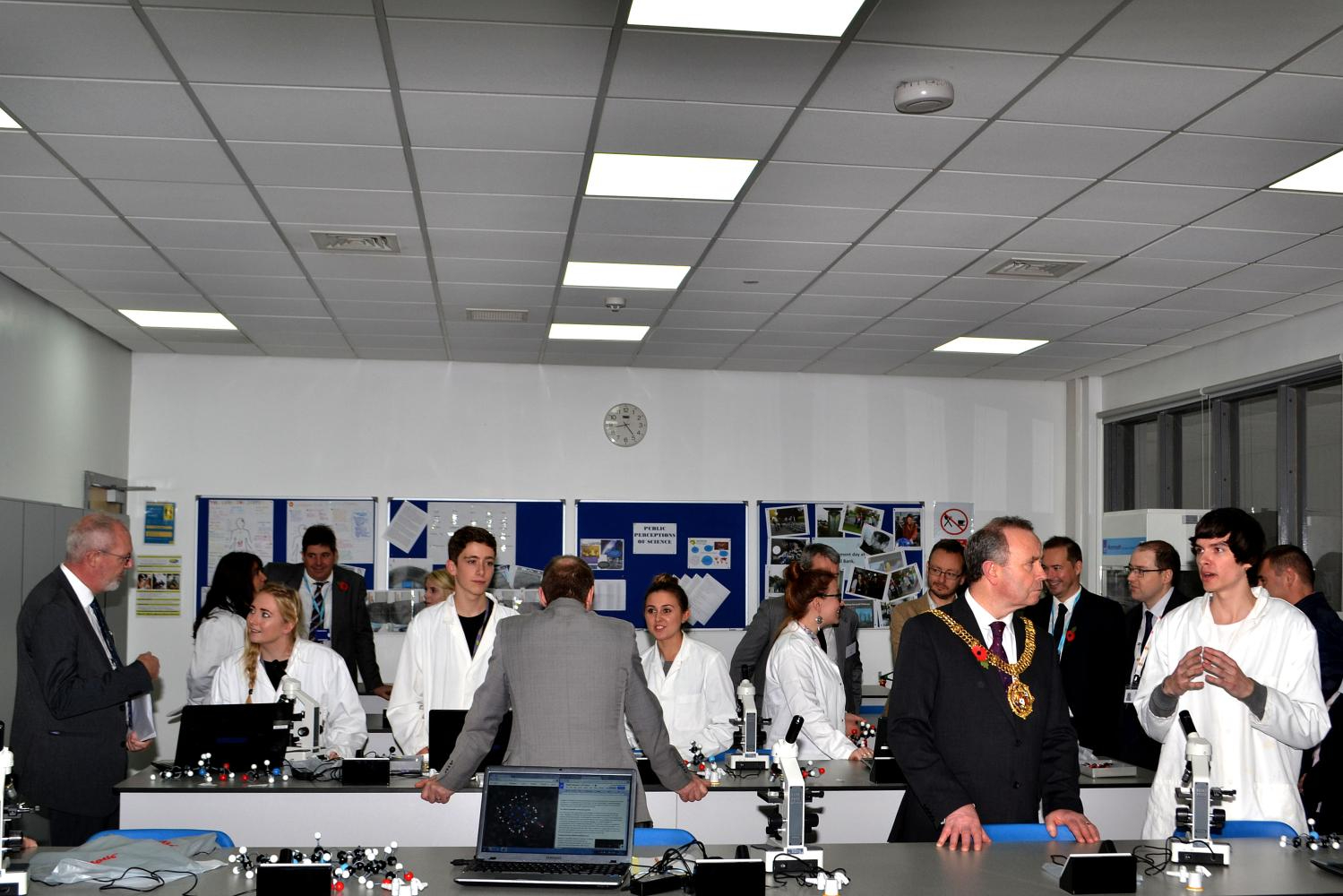 STEM technical centre
Lee Hardman, Director of United Air Power, who completed his Level 3 qualification and Higher National Certificate (HNC) in Operations Engineering at Wirral Met College, is now working in partnership with the College to deliver apprenticeship programmes in his organisation. He recently visited the new engineering workshops in the STEM Centre and said, "It is fantastic to see that you have invested in Festo and Siemens equipment; in my opinion they are very high quality. We also use both these manufacturers in our business, in particular Siemens S7 for PLC systems - we would not use anything else! It was also nice to see the Robotics and 3D Printing equipment. It demonstrates how the College is being innovative and has considered Industry 4.0 at the forefront of its operations. I can see that your focus on the success of your students is very important to you, not just through your efforts to provide cutting edge facilities but through your passion to succeed!
"I absolutely love the Engineering workshop, the set up you have certainly is the best I have ever seen! You have really thought of everything – lathes, CNC machines, welding facilities. This will allow students to develop at the highest possible level; you should be so proud of what you and your team have achieved!"
Robert Parker with STEM students
Another student who is reaping the benefits of studying in Wirral Met's new STEM Centre is Erin Holman from Liverpool, who was Wirral Met College's Science Apprentice of the Year 2016. Having completed her advanced apprenticeship in Applied Science, Erin is now studying towards a Foundation Degree in Chemistry with Wirral Met. Erin, who is currently working as an apprentice laboratory technician for Hosokawa Micron, said, "My plans for the future are to keep my job at Hosokawa Micron and hopefully move into a more supervisory role within the company and extend any career prospects by enhancing my educational background. If you want to be focused on studies, know you'll get the grades and have the whole team behind you, then here (Wirral Met) is where you need to be."