Former student, Chris Connelly took time out of his busy schedule to visit our Oval campus and speak to Sport Science students.
Chris works for the Olympic British Boxing team as a Sport Scientist within the data analysis team came to share his experience with the students, he commented, "I enjoy my job that much I do not want to go home at the end of the night". Chris shared some amazing stories on how sports analysis is changing the way we think about sports coaching. For example, he was on the team that advised the coaches that worked with Nicola Adams (female gold medallist from the London Olympics) during the recent Commonwealth Games where she achieved gold. Chris explained "from looking at the video evidence of Northern Ireland's Michaela Walsh before the women's flyweight final in Glasgow, we were able to feed weaknesses on her performance back to the coaches. Nicola Adams won via a split decision."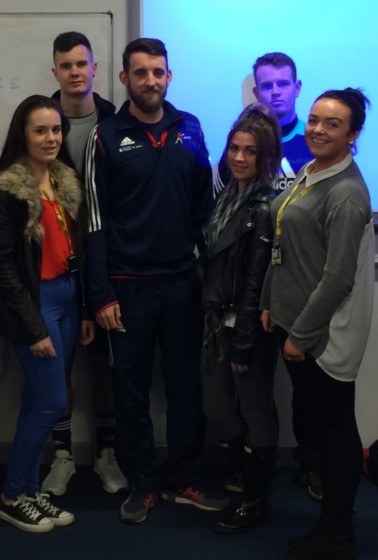 Chris is a true inspiration and the feedback we have received from our students has been fantastic. The students have been invited to the English Institute of Sport. We look forward to working with him again soon.