Kristina Thompson, a 22 yr old ex Wirral Met College student has started her own swimming Academy in Cumbria. Kristina moved to the Lake District not long after successfully completing two BTEC Adventure Sport courses at Carlett Park Campus.
Kristina has taken just 3 short years to realise her dream of starting her own swimming academy business. Two of her tutors, Stephen France and John Kendal caught up with her on their climbing expedition recently.
Stephen said, "We have kept in touch with a lot of our former learners and it was nice to see just how well Kristina was doing. Her academy is booming with over 300 swimmers, 9 staff and 3 different pools; she really is making a splash in the Lakes!".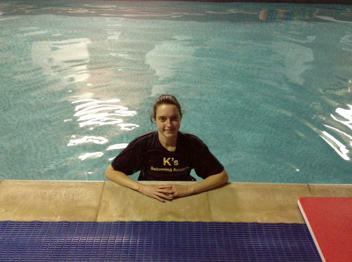 The current Adventure Students who met her were impressed at how successful she is and at such a young age. Kristina explained that the course has given her the confidence to fulfill her ambition and startup her own business.
Applications are now being taken for the Level 3 Adventure Sport qualification at the Oval Campus, call 0151 551 7777