Information, Advice and Guidance
Wirral Met's Information, Advice & Guidance Service holds the national matrix quality award, which means we are committed to giving new and prospective students, parents and other advisers impartial advice and guidance.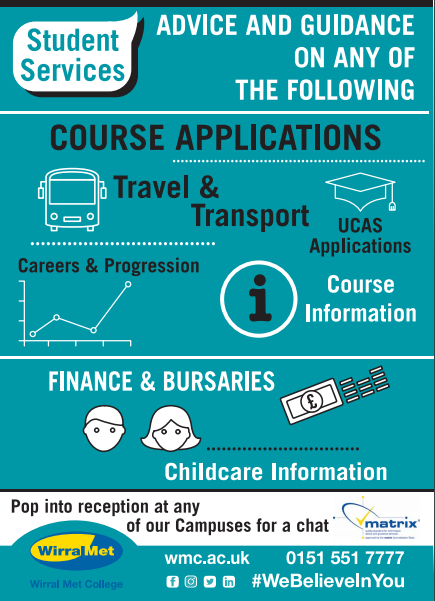 Get in touch to:
Get help with finding and choosing the right course for you and explore your options
Discover the different ways you can study
Our Student Advisers are on hand and happy to help with any query you have have. They offer a friendly, confidential and welcoming service to help you make the most of your time at college.
Come in and speak to our Student Advisers at our Conway Park Campus, they are available 10.00am - 4.00 pm Monday to Friday (all year round) and 10.00am - 6.30pm on Wednesdays (term time only) - no appointment is necessary.
Did you know that study programmes are FREE for most students aged 16-18?
If you are aged 16-18 (on 31st August), study programmes are FREE for most students as these courses are funded by the government.
Study programmes are full-time courses for 16-18 year olds which include:
A qualification such as BTEC Extended Diploma
Meaningful work experience or preparation for work
English and maths, if you don't already have GCSE grade A* - C in English and maths already
Non-study activities such as tutorials, voluntary work, fund-raising / charity work, sport or trips