Information, Advice and Guidance
Wirral Met College's Information, Advice & Guidance Service holds the national Matrix Quality Award, which means we are committed to giving you impartial advice and guidance.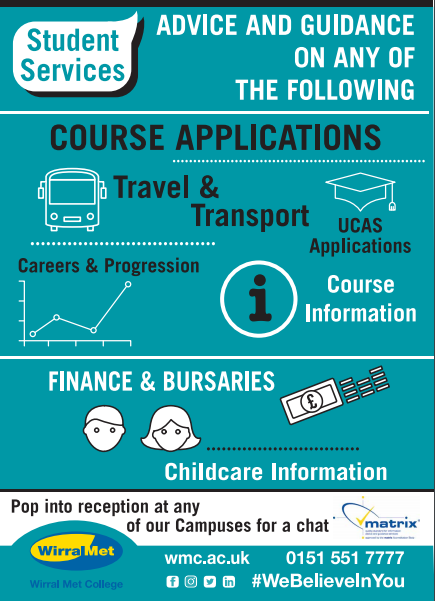 Get in touch to:
Discuss your career ideas
Get help with finding and choosing the right course for you and explore your options
Find out more information about all of our courses
Discover the different ways you can study
Access support services eg additional learning support
Our Student Advisers are on hand and happy to help with any query you have have. They offer a friendly, confidential and welcoming service to help you make the most of your time at college.
Call 0151 551 7777
Complete the enquiry form
Come in and speak to our Student Advisers at our

Conway Park Campus

, they are available during the day Monday to Friday (all year round) and on Wednesdays and Thursdays until 6.30pm (term time only) - no appointment is necessary.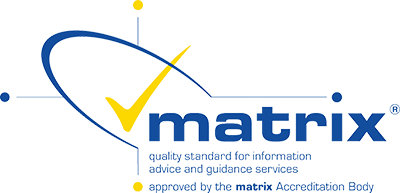 Wirral Met College has a Careers Education, Information, Advice and Guidance strategy and programme for students and parents. Click here to find out more.
Career Match can help you find your ideal career
This free online tool will help you see see which courses lead to your dream career, find out how much you can earn, take a look at specific job roles linked to the career you are interested in, and see how many people work in that sector. You can also find out how many jobs there are locally (across Wirral, Liverpool, Merseyside, Chester)
Alternatively, take a look at the job profiles available on the National Careers Service website.
Are you in Year 11?
Raising Participation Age legislation means that if you are in Year 11 now, you will have to continue in education or training until at least the end of the school year when you are 18.
This does not mean you must stay in school! You can choose from the following options:
full time education in college (or school)
an apprenticeship
get a job, be self-employed or volunteer for 20 hours or more per week – and receive part-time education or training leading to a qualification
Remember – staying in education and training has huge benefits, including increased earnings and better job prospects.
Did you know that study programmes are FREE for most students aged 16-18?
If you are aged 16-18 (on 31st August), study programmes are FREE for most students as these courses are funded by the government. Please see our Fees & Discounts leaflet for details, or call 0151 551 7777.
Study programmes are full time courses for 16-18 year olds which include:
a qualification such as BTEC Extended Diploma
meaningful work experience or preparation for work
English and maths, if you don't already have GCSE grade A* - C in English and maths already
non-study activities such as tutorials, voluntary work, fund-raising / charity work, sport or trips